While the idea of a rental based real-estate venture has been in my mind since early 2017 (when I quit the corporate world), the idea took structure and form last December. And like a smooth chemical reaction, when the amorphous ideas coalesced, they did so at a blistering pace. From idea, to brand creation to company creation in less than 60 days.
So, what is Cove?

We envisaged a company that focuses purely on the rental market. The pillars on which we intend to stand ground are the following:

1. Rentals – residential or commercial, but only rentals

2. Asset Right – Neither Asset light (pure operator model), not asset heavy, but investment in assets based upon the market and product fit. We believe in having a skin in the game. This helps us ensure we focus on the long-term benefits for our clients.

3. Diversification –We pick our locations carefully, within a size range that ensures diversification on geographies, micro markets and product categories. Product and demand fit are absolute essentials

4. Transparency – we believe in being professional. With our investor partners, asset partners or clients. No unnecessary fine print, and use of technology to ensure transparency
We loved the way these pillars were invoked by our design team in our final logo

What's the one year journey been like?
Co-working at Cove: We think our Kotturpuram coworking space is one of the coolest co-working spaces in Chennai. The space has gained significant acceptance from clients who have grown with the space since its launch in August this year (We're almost full – in case you were looking to work out of there!
Growth: We've tied up 2 other projects- Bangalore and Chennai. These range from small office spaces to coworking spaces. Both are in prime locations within each city (Put a check mark against all four pillars!
We are in the process of tying up residential rental projects – a more long-term play which involves efficient design, land acquisition and construction. We truly believe these will be gamechanger projects in Bangalore for residential rentals.
Team: We have expanded our board and advisory team – not because we have investors asking us to do so, but because we genuinely believe we need alternate perspectives.
• We've got the inimitable Deepak Mohan, Co-CEO of MAPE Advisory (one of the most respected boutique I-Banks in India) who joined our Board and anchors us to reality.
• Capt. Ravi S (founder of Pegasus Training, Founder of Terrier Security) acts as advisor and his decades of operational and entrepreneurial experience is a boon.
• Deepthi Nemani acts as our technology sounding board apart from being an awesome source of design ideas!
And there is more to come from a Board of Directors standpoint – watch this space!
And last, but not the least – we've grown into a great team – both in Chennai and Bangalore. A group of really motivated young folk with a focus on client satisfaction, operational efficiency and growth.
How are we celebrating?
By thanking our clients and partners of course – with some great home-made brownies for all our clients and partners. Here's a snippet of what our clients saw this morning at their desks along with the brownies!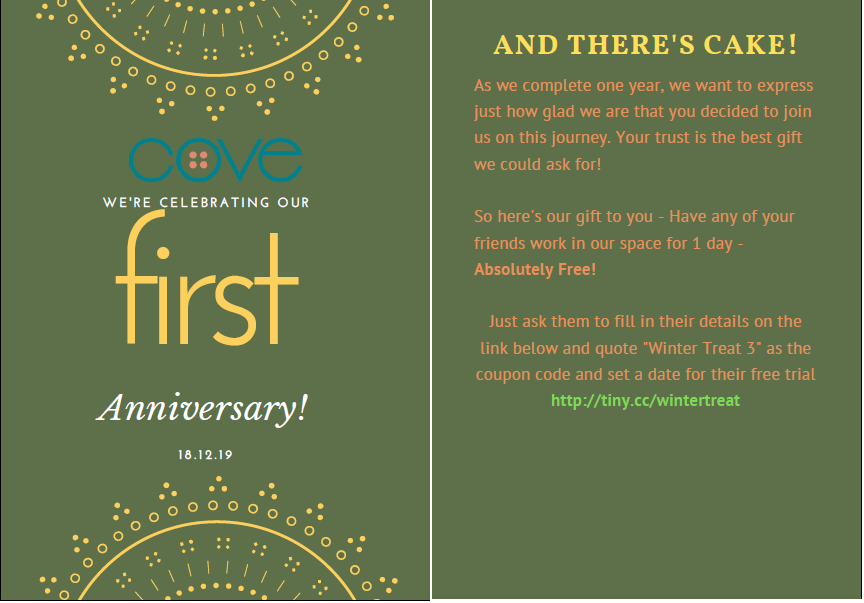 Thanks to everyone who's helped us on this journey this past year!