Wondering what Virtual Office (VO) Working is? Think of a scenario wherein you book only the address of an office space for professional use, work out of the office space only when you have a meeting or as required, and otherwise continue to work from your home/cafe or anywhere that suits you.
It's primarily used by solo entrepreneurs, small teams or teams working almost or entirely remotely. It can also be used when you want to establish a physical presence in a location while having your staff work remotely.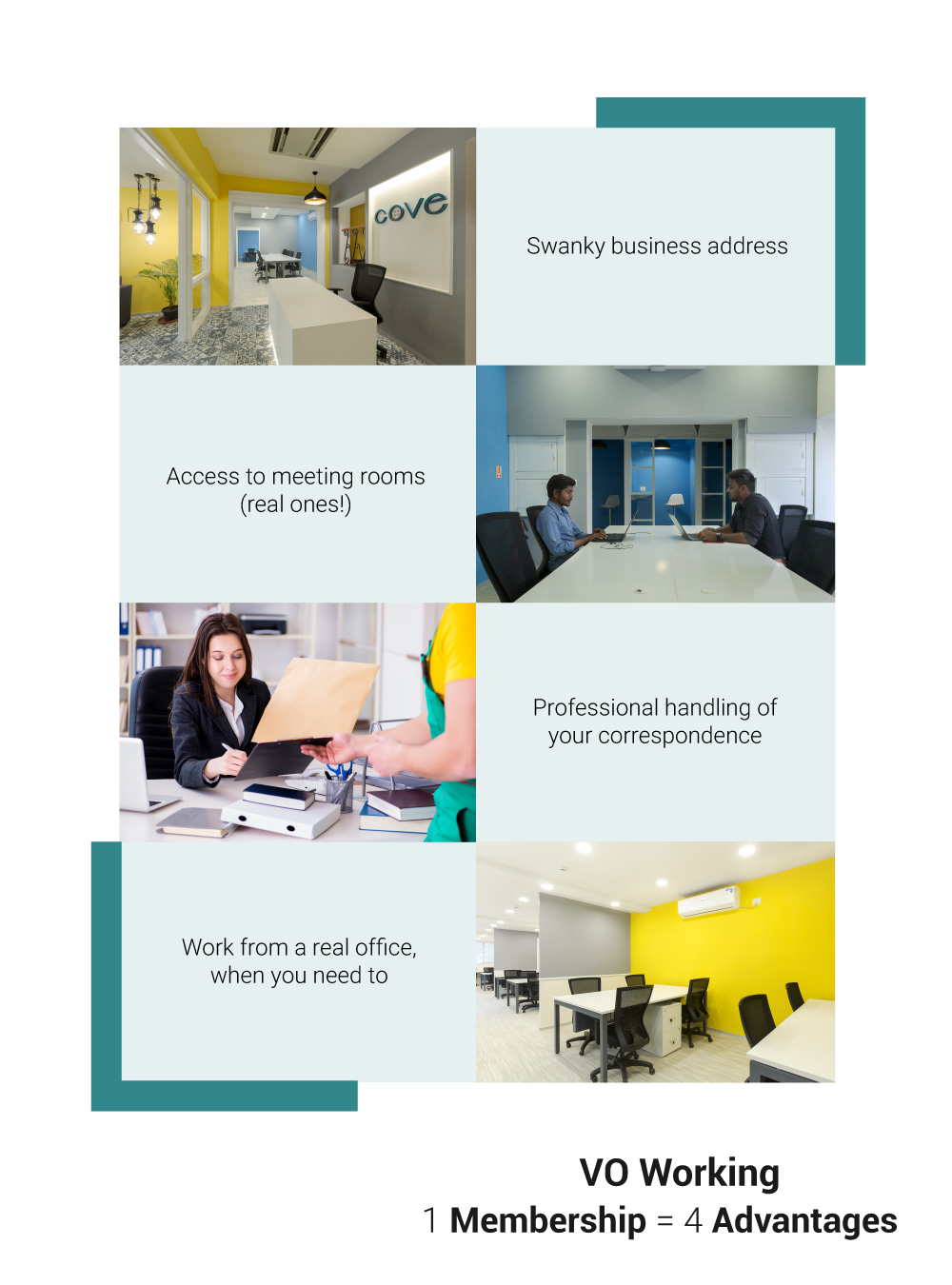 Most importantly, it is fast becoming the 2020 style of working in the light of the COVID-19 crisis and increased emphasis on a remote work culture. Forget old-style working, it's time to switch to Virtual Office (VO) Working.
1 Membership. 4 Advantages.
Swanky business address
Just like a real office, you can have all your correspondence directed to the virtual office. Our professionally trained staff handles all your correspondence for you. This leaves you free to concentrate your energies on your core business without worrying about setting up the infrastructure.
Professional handling of your correspondence
When you book a Cove Virtual Office, you get to use the address of Cove Kotturpuram (a premium coworking space in the heart of Chennai) for company registration, GST registration and other business correspondence. This gets you all the benefits of a "real office" without any hassles of acquiring and managing one.
Access to hotdesks and workspaces
If you think that's all you get with a Cove Virtual Office, you're mistaken. We understand that correspondence is not all that matters for an office. Sometimes you do need to work or entertain clients in a "real office". People also need to interact in person to be at their productive and collaborative best. Keeping this in mind, we offer 1 day per week access to our hotdesks and workspaces.
Access to meeting rooms
You also get time-limited, complimentary access to meeting rooms for a few hours every month. This helps you with face-to-face meetings and working alongside each other, thus taking care of your collaboration needs.
Last but not the least, you can also get a locker as an add-on to your virtual office to store documents etc. This helps you get the best of all worlds.
Cove's VO-Working plan gives you a virtual office with real space and real benefits. Give them a shot and find out for yourself!